Here's my most recent group of 3 presentation sets that I was working on, all finished up! I actually finished these up yesterday morning, but editing/cropping/uploading photos and advertising sucks up a lot of time! These are all sale pieces! I'm excited to say that the blue mix set sold almost right away! Of the three sets the blue one has the most of my artistic flair added to it with the rhinestones, charms, brow band, etc...it was kind of an experiment and it feels good to know that someone else immediately liked what they saw and snatched it up! That's just the encouragement I need going forward to decide if I will be focusing on mostly pieces that are more direct representations of reference photos I have, or if I'll be putting more of an artistic spin on things. And really, I'm thinking the artistic flair pieces are a little more popular! That being said I do still have a few more authentic pieces in the works, but I'm definitely feeling braver about exploring new ideas of my own!
So here's the group, sporting the newest looks. From left to right we have: Twist wearing a Bedouin Native style presentation set in a vibrant emerald green, and in the center we have Miss Elizabeth Bennett wearing the blue mix set with the fancy brow band, and finally to the far right Tu Fire wearing a plush red Bedouin Native style presentation set.
This red set features a lot of my typical details. The shark teeth on these are hand filed to prevent rubbing and scratching and is a favorite method of mine still. I was doing my nose chains in this method before Rio Rondo came out with their awesome Arabian hardware sheets, and I still like to do chains in this style sometimes, it gives it a fuller look. If you read the progress blog on this red set you may remember that I started out with a red base for my halter and collar, ran out red floss and ended up picking up the wrong red to match. Instead of making an additional trip to the craft store I decided to use it anyway, and the effect is not bad. The tassels have just a kiss of fuchsia in them. This gives a very subtle contrast between the two colors that is almost undetectable.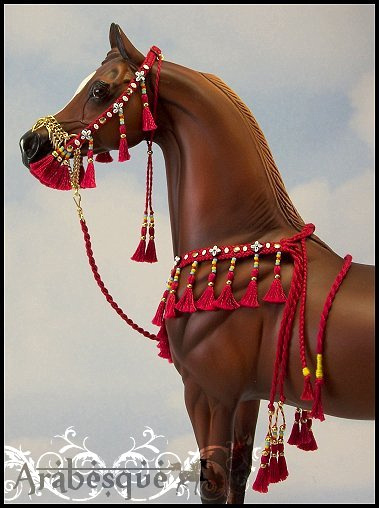 Below you can see a close-up of my new method I developed while working on these sets for doing what I call the "drop ropes". It adds a punch of color and an authentic flair to the style. I also threw in some metal embellishments and further accented the gold theme by tying my tassels with gold plated beads. I have found this to be a wonderful time saving method, it saves on my hands, and even better there is way less of a risk of the tassels coming unraveled at any point or coming apart. Even though when I do hand wrap tassels I use a special method and materials to prevent this as much as possible, this is a nice and attractive alternative that I've become a quick fan of!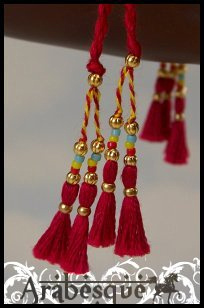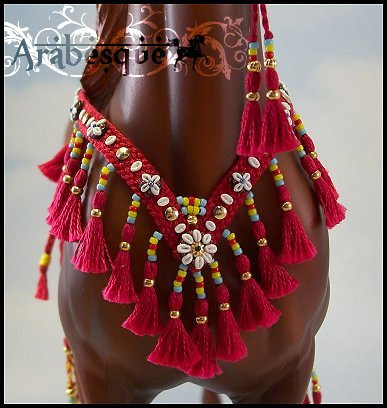 I may or may not have said before that I LOVE a bay in emerald green, so to some degree this set fulfilled a desire to put green on my bay. This set is done very similar to the red set, same sizing, number of tassels and new details added, just in different colors.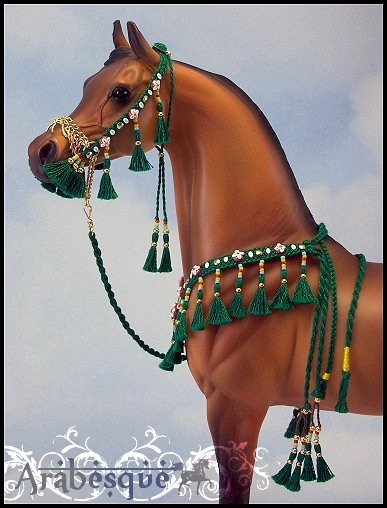 I very nearly was about to do a third set like the red and green, but in a blue when I decided...no, this one must be different and then I couldn't decide which shade of blue should be used, so I used three! I was using reference photos as a guide for the top two sets, but on the blue set I decided a little "Hollywood" flair was necessary! So this one is created with three different shades of blue, first all braided together to make the headstall and collar. Then there are alternating tassels in each shade. I almost made this one a single tier also but then decided why not do a double tier? Once the tassels and chain were set, the decision to add rhinestones and a brow band with charms came to me later. I really let the set speak to me as I went along (do I sound crazy yet? Oh good!). The charm on the brow band is a crescent moon, with a "blue" moon or a turquoise rhinestone, and then a dangling star charm. I also carried this theme out to the nose chain where a larger star with a rhinestone was also added. I'm such a fan of crescent moons on Arabian tack anyway, so this is probably something we can expect to see more of in my work! I'm excited to say the gal who bought this set also loves crescent moons, and also owns a Miss Elizabeth Bennett that can wear this set, because it just suits her doesn't it?
Ra also wanted to try the set on.....
Here's a close-up of the collar details, a mix of hand sculpted cowries, silver embellishments, turquoise and clear rhinestones. It's hard to tell in this photo but the "drop ropes" on this set were wrapped with silver. This method is a keeper!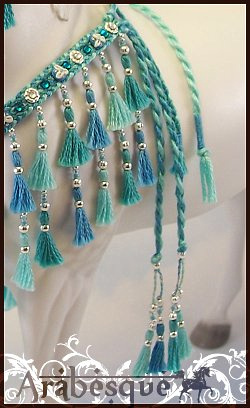 And there we have it! I'm currently trying to start a resin Arabian collection, and periodic presentation sets coming up forsale are going to help support that growing addiction for me, so expect to see a few more of these here and there. I have another batch of 3 planned to sell which are in the design stages. It probably won't be too soon because I'm also working on 3 Arabian costumes! I can't wait to start sharing more progress of the costumes as they come together. I'm very excited about my newest costumes, each one is unique in it's own way, and therefore it'll be a very fun mix to work on! Something a little different going on with each one!
That's all for now, if you've managed to read through all this extra babble I thank you! If you've just stopped by to look at pictures, that's totally fine too! Either way thanks for stopping by, and taking an interest in my work! Thanks for reading and happy collecting everyone!
Melissa :0)