Once upon a time there was a collector who loved to hair model horses but wasn't yet ready to paint her own model horses....
So I decided to try something a little crazy. Inglenook is easily my favorite Peter Stone Arabian out there, so much so in fact that I felt I needed two. I didn't expect to score one that was such a lighter variation to the original however. So I had a little trouble deciding which one should be haired. I had already prepared some flaxen mohair that was more what I would describe "pumpkin-y" in shade so I decided the darker one would get hair since his color seems kind of "pumpkin-y" to me as well. Note that neither of these horses is mint condition, they both have marks and scratches so customizing them does not hurt my feelings or worry me. Besides that hair makes everything better!
So I cut off his tail......
And I sanded down his mane and forelock as carefully as I could....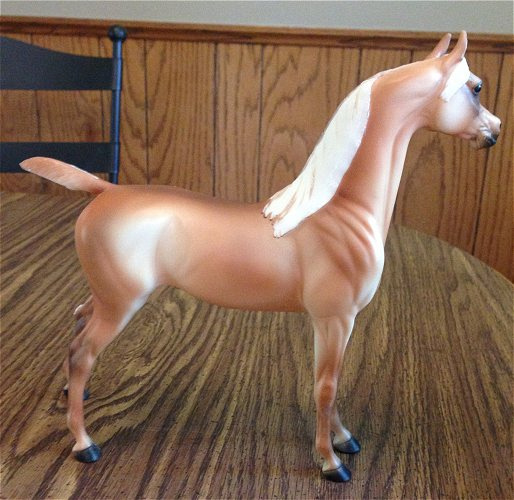 There was a slight challenge detaching the tail from the leg, and plans were made to hair the tail so it falls to left side to cover that spot up...
A nice deep trench was carefully dug into his neck line....
Then his tail went on first......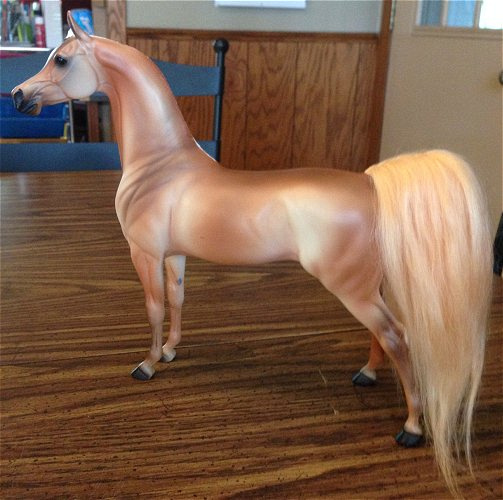 Then the mane.....what a wild man!
I iz cousin IT! HELP ME!!
But then he got some serious style....
(If you're curious about this presentation set be sure to catch my next blog!)
I decided to give him a couple chunks of messy mane on this side....
I got that tail to swish off to the left just slightly to cover up the bald spot on his leg..
I also added some gloss to his eyes, nose and hooves to add to this new life he's been given!
His new mane really reminds me a lot of his old mane...the length and the way it falls...he's a sleek man!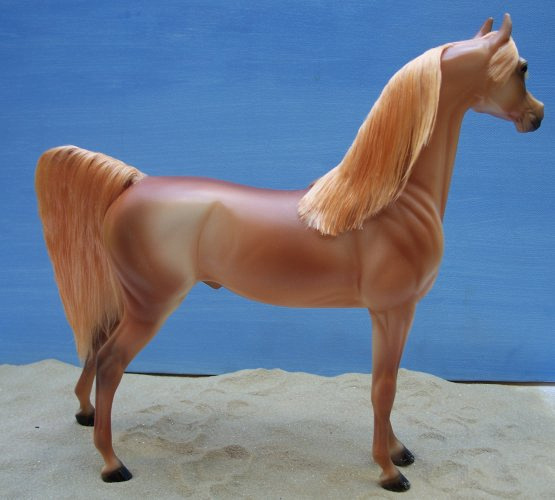 The results of this experiment? No horse is safe anymore....now I'm looking at my lighter Inglenook and thinking he could maybe be a palomino? I just plopped the hair on him to see how it looks. I just love hairing, might have to do a few more!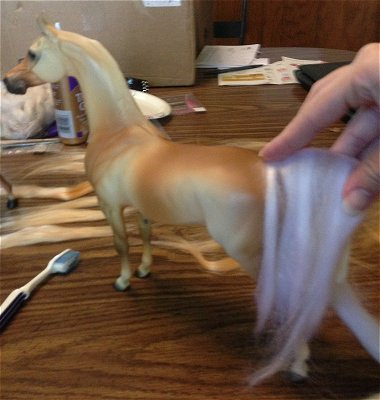 And really this experiment gave me some helpful practice for the more important thing that's coming next! I have a gorgeous hair-prepped Arabian resin painted by Shannon Mayfield that I get to hair next! Now that I got to practice on Inglenook, I feel more prepared for the task! Stay tuned to see that blog coming soon!