Here are some project halters I started awhile ago and I am just now getting back to finishing up. These are inspired by the halters that the famous Arabians "Nazeer" and "Morafic" wore. The black and white halters are done, I have 3 of these to sell if you are interested contact me. They are fitted to the Peter Stone Arabian, they are not adjustable like some of my other halters so the halter will only probably fit horses similar in size. The throat lash just hangs down and loose, no slider bead on this one, but it does come up over the ears pretty easily because of how it is positioned. Features hand made cowries that completely line both sides to add a fun pop of color. Lead line is detachable and is not permanently knotted in place. I can picture these halters in all kinds of fun colors so expect to see more of these!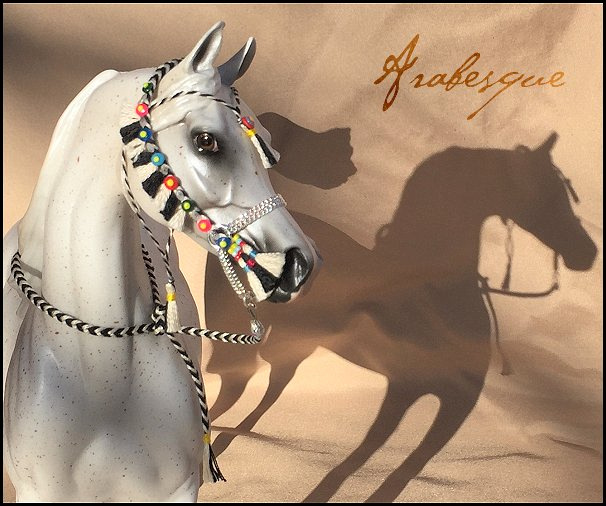 (Just love how the shadow came out on this photo! That wasn't planned at all!)
I'm also working on wrapping up more halters in this style this week in some other colors. Below you can see I've got a green/white one and a blue/white one. The white on all these halters is more of a subtle cream off white, not a true white so it gives it more of that authentic vibe I think. I will also have 3 of each of these colors to sell as well, so 9 altogether. If you are interested in reserving one before they sell out contact me today!
Another thing I just saw recently saw that I have to talk about since I just happened to be making some of these "Morafic" style halters is that a very talented artist is releasing a resin Arabian sculpture of Morafic. Check out "Moonsong's Morafic" by clicking HERE. This one is being cast by Seunta so more details on this one will also be posted on their website I'm sure! http://www.seunta.com I would love to get my hands on one of these new Morafic resins so I can make some halters to fit him!
Here is a link to the website with some background information and reference photos of the real Nazeer/Morafic halters.