Newly completed, a royal blue native style Arabian model horse presentation set with pom poms! Now this is one that I had started when I first had my son back in August of 2015. I started six presentation sets while I was on what you could call a "maternity leave" because during this time I was resting and adapting to my new role as "mom". These tassels were all made with a baby on my lap! This is the first of the six sets that I've finished up and it has set the pace for how the others will probably look. I am close to finishing an orange one that is part of a trade for someone. After that I will be finishing up a yellow, bright blue, emeral green, and a bright red. The tassels are all made for these, including strung into tiers and either already put on these sets or in need of being sewn on, then it's just the finishing details like the chain charms, cowries, pom poms, wrapping of the ropes etc. that need to be done on each one.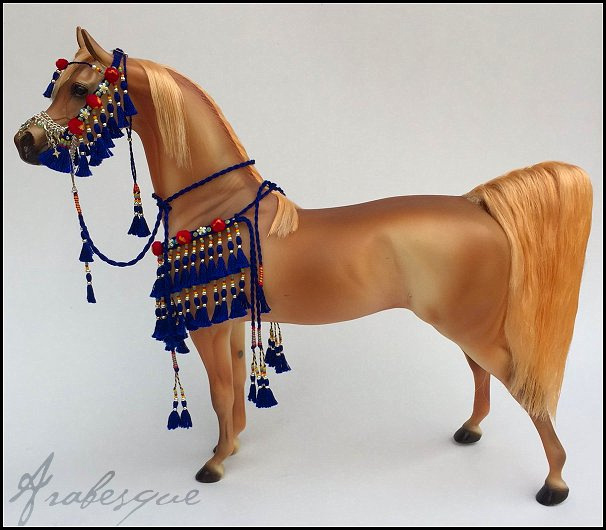 Now on to the details! This set is made to fit the PSA but it is adjustable with a buckle on the headstall so it will size up a bit to fit some larger models. The throat lash tightens and loosens with a slider bead. Lead line is detachable and is only tied around the horse's neck in these photos for modeling purposes, it is not permanently tied.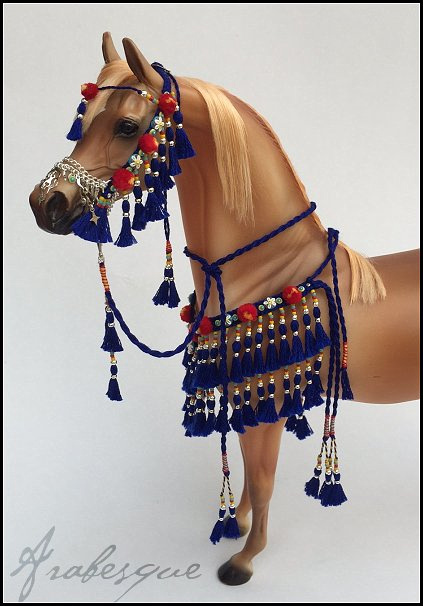 The nose chain is heavily decorated with a variety of Rio Rondo charms, along with a few hand made colorful charms that are made to imitate the "egyptian eye", a charm that can be symbolic of warding off evil spirits.
Then of course the set is decorated with my newest favorite thing to make pom poms! These ones are red with a splash of yellow. I've also thrown in some hand made cowrie charms and more little egyptian eye type decorations throughout giving this set a highly decorative and delightfully textured effect.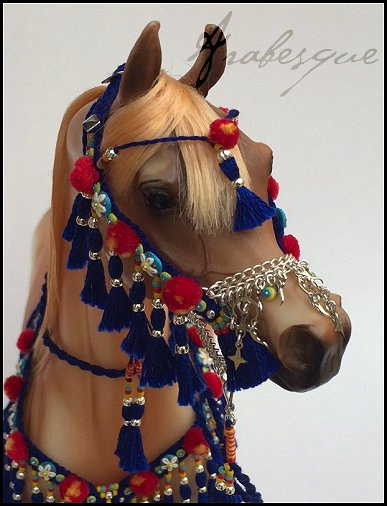 Finally, all rope ends are wrapped in colorful threads, and topped off with even more tassels and beads. The colors of this set are very rich in person. The blue is a very bright royal blue, the vibrancy isn't quite captured in these photos. The supporting colors are a mix of turquoise, bright red, and a golden yellow. Finally the set is heavily accented with glints of silver all throughout.
Thanks for reading and happy collecting everyone!
Melissa :0)