Well, I did it! It's been roughly five years or more since I last made an Arabian costume, but I can finally say I'm back at it! This is obviously also the first costume of 2015 for me, and will be one of at least four as of right now!
So this one was commissioned by Lea of Finland. She contacted me one day and offered to trade an artist resin (a gorgeous curio sized "Sayyed al Hawah" by Debbi Lermond) for a Native Arabian costume, and I really liked her ideas she had for this one. She had really liked the "zebra" style halters (as I like to call them) that I had made in the mixed black and white, with the yellow, red and blue accents. It turns out we were able to come up with a design theme in these colors.
This one features a coin/charm noseband in gold. The throat lash is detachable on one side to make tacking up easier on larger models. This set was made for horses larger than the PSA such as those larger Arabian resins that are out there, so you can see on some of these photos with the PSA's that the costume is a bit roomy, but it does still fit him. The bridle is separate from the halter and is worn underneath, the bit attaches with sticky wax.
All tassels on the halter and collar were double wrapped in yellow and red threads, then dipped in blue beads for the unique native "el badia" or "extra beaded" effect. This also helped bring more color to the set.
The seat is covered in a soft black velvet and artfully trimmed out with a design that matches the costume's panels as well as some hand sculpted cowries, finally topped off with some silky white tassels for contrast. The tassel on the front pommel is an accent I had done on another costume and I liked it so much I will probably be using it a lot more, maybe as kind of a signature accent to my work!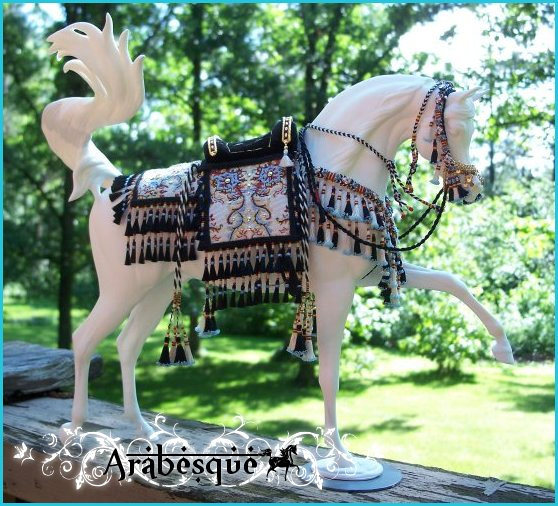 Here is the set pictured on my unpainted "Ajmal" resin, sculpted by Debbi Lermond. Those that are familiar with Ajmal or Debbi Lermond's work know that her traditional scale horses are full sized and there is so much horse to looooove! Okay guys, seriously heads out of the gutter. So as we continue on to the next photos you'll start to see how Ajmal's head fills out the halter and throat lash better than my PSA's do.
The nose band features gold coins, and three additional upside-down horse shoe shaped charms for added dimension. I really like to add extra pizzazz to my nose chains.
To keep with the theme of the headstall, I also hand wrapped red and yellow accents on the collar piece as well, so it is a mix of hand sculpted cowries and colorful thread details. Also note that usually when a native bridle is placed beneath the halter you see it emerge on the bottom side of the halter. The main reason the bridle is visible on the top side of the halter in these photos is it was helping hold the halter away from Ajmal's face. Heavy halters tend to fall or droop on horses with tucked heads and that was kind of going on with Ajmal while I was trying to take photos.
I decided to place this set on my PSA "Ra" to see it on a horse with a little more color. For some reason the lighting on this photo makes it feel like it has a vintage vibe (to me anyway!).
This last photo had some nice lighting. Too bad it was on the deck with the house in the background instead of with the nice green foliage in the background like I hoped, but I think it may have turned out to be one of the best photos I was able to take of this set!
And today, this set is officially on it's way to its new home with Lea in Finland! It's always a triumph to officially pack up a costume and ship it to its new owner, there's something that feels incredibly gratifying about that part. Of course the best part is when the customer actually gets the costume! I cannot express enough thanks to Lea for commissioning this set with me, and for sharing her ideas with me to make it happen! It's been a pleasure, and a wonderful journey bringing this piece to life, and I'm just so grateful to be back into making costumes and doing what I love!
Coming up next I have more progress photos to share on my next three costumes, and hopefully I will be able to do a blog about that by the end of this weekend!
As always, thanks for reading everyone and happy collecting!
Melissa Halvas :0)