Here is a long overdue peek at what I've been working on as far as Arabian costumes go. I've got a full work table right now, I'm officially working on four now. The fourth one I'll talk about last, today I want to share the progress of three of these costumes with you.
First up we have Lea's costume, a fun kind of "zebra" style (as I've nicknamed it) native set. This set is the closest to being finished and I have a goal to have it done by the end of the month. The main focus is black and white accented with light blue, yellow, and red. The drape will have a double row of silk black tassels, and those are already tied and ready to go on. Mainly from here it is just details, ropes, stirrups etc...to finish it up! The halter is also sized a little bigger to fit larger models.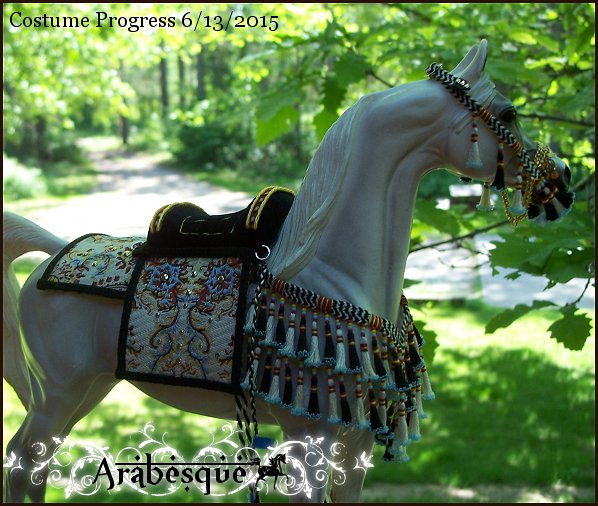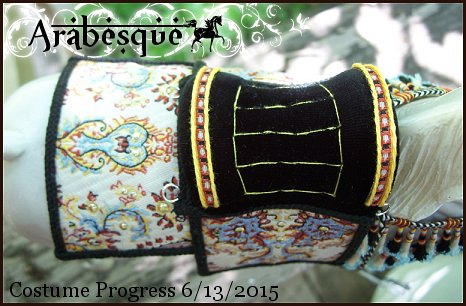 Next up is a costume for my friend Diane. She's told me that she's always loved the colors teal and purple together but that combination is not easy to find in what I typically use for costume materials, so I had to do some searching. Believe it or not this drape was born from an iron on applique that I heavily accented and quite carefully cut to make this design happen. Thankfully Diane said "artist's choice, go for it!" and this one has been a lot of fun to make. I've really let this one talk to me as I go. Our initial goal is to have some native theme in the design, but this one is going a bit more show ring with all the fun flash added. The halter and collar will have a combination of cowries and rhinestones, metal studs for accents, and the cut of the drape and seat style also add some native flair. However, the halter and collar tassels actually have bits of metallic gold thread mixed in to give this set extra show ring style sparkle. I had enough material to design a poll piece for this set that will attach to the headstall and decided to give that a try. I've since decided I'm going to redo the headstall because I'm taking that piece in a different direction now. The costume's drape will have a double tier of silk purple and teal tassels. My goal for this set is to also have it finished by the end of the month or real close to it.
Third up is Jessica's costume. She really liked the colors of the feathered presentation set I did with the "tiger's eye" theme, and wanted a costume with the turquoise and brown. She has a Bint Soraya being painted to a pretty bay that this set will be for so this one is very roomy in the headstall on the PSA because it has to fit Soraya's head when it's done. By some happy accident when I was cutting the drape on this one I was able to preserve the fringe at the end of the rug and decided to work that into the design. This drape will have orange, turquoise, cream, and emerald silk tassels, just a single row, accented with brown. The seat in these photos is just shown to give an idea, but once it's covered it's going to be done in a matching turquoise velvet. This one is such a fun set, I'm going to absolutely have to see it on Jessica's Bint Soraya when all done for sure, I think these colors will be fantastic on a bay! The deadline goal on this one is by mid July.
I also have a fourth costume in the works for Heli that is going to be a hand embroidered pattern. If you'll remember the blue mix set I did:
The costume will be based on this idea, but with a triple tier of tassels, and more tassels per row to make it real nice and full. And we'll be keeping up that soft sparkle, celestial theme also with this one. The embroidery pattern will actually feature some embroidered moons and stars. It's a combination of looking at reference photos and some of my own touches in there. The deadline goal on this costume will be end of July.
As you can see I've got my work cut out for me, but I'm just having a blast working on all these beautiful costumes! And I'd like to offer a special thanks to the four ladies who have contacted me to work on these costumes, you have all been just wonderful to work with and I can't wait for you to have your costumes!
As always, thanks for reading and happy collecting everyone!
Melissa Halvas