Last night I completed this unique jeweled presentation set. This one is based off a photo of a real presentation set, one that I have been in love with forever. I cannot describe how many hours of time and thought have been spent trying to come up with a way to redesign something like this for model horses, or how long it's taken to find the right pieces to put this together right. What you see here is a result of many hours of trial and error, lots of frustration and a whole lotta patience! This model horse set also has a little of my added flair that I'm known for. I added a touch more green sparkle to mine, some tassels, and some heart charms. There was one day I was studying the reference photos for this and I thought I saw hearts. So the set became nicknamed the "Green Hearts" set and I developed my theme for the set around that. Here is a look at the reference photos I used, hopefully these links work, these are from pinterest:
https://www.pinterest.com/pin/493073859179182387/
https://www.pinterest.com/pin/493073859179158449/
The headstall I kept simple so that the attention and main focus could be kept on the very detailed collar, which is how the original set was done. I cannot even count how many tiny little charms are on this one but some of them are handmade, others assembled into my own creations. The dangling chains are completely lined with a row of little tiny silver charms. The cabochon stones that I used are green agate stones, and are hand assembled over a unique heart shape design that drips down into more hearts, charms and beads. The green in this set is what I would describe as varying from a mellow medium/light green to emerald. There is some natural variance in the colors of lightness/darkness in the green agate stones which add unique contrast. I love the way green looks on horses that are chestnut or bay in shade the most, but I'll admit it does look pretty snazzy on Boot Scootin' Boogie!
This set will be a one-of-a-kind creation for Arabesque, I will not be making this one again in these exact colors. My books are closed for the remainder of the year, and I will likely not be accepting custom orders on these types of sets due to the artistry involved. These are something I'm going to make when it tweaks my fancy, so they'll more or less be random! It's easier to make it the way I want to and then offer it for sale as a special. Since I cannot settle on a price, I thought I would offer this up for sale for this week and see what kind of interest there is! So if you like it, now is your chance to snatch it up! I will be taking offers possibly as late as Sunday 7th of June @ 12pm eastern time.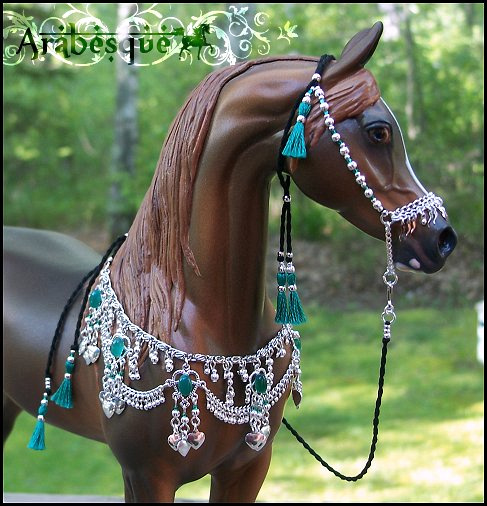 If you'd like to place an offer feel free to email me at:arabesquearabiantack@hotmail.com or use the contact feature on my website which also goes straight to my email, whichever is easier! All offer prices will include shipping in the offers made price. I am willing to consider time payments but preference may go to those who can pay in full. I will accept offers for the entire coming week, or stop accepting offers if I receive one I'm happy with!
To track the original adverstisement for current offers and updates, please visit the following link:
http://www.modelhorsesalespages.com/view.asp?id=1162235
As always, thanks for reading and Happy Collecting to Everyone! :0)
Melissa Halvas