Newly completed Egyptian style presentation set. This one features the "el badia" style beading on the ends of the tassels. I also used some unique metal beads to cap off the tassels giving this set an even more authentic vibe. I've also experimented with a new style on my cowries which I'm really happy with. Adding extra silver gives the set more flash. This is the first time I've done a throat lash in this style also, and I love the effect. It detaches on one side via a small hook to make tacking up easier on larger models. This one is really easy to put on and take off a Stone model because they aren't as wide in the throat as some of the larger resins. The nose chain features coins with an added larger charm for more bling. This set now belongs to my friend Diane! Here is a look at one of my inspiration photos for this set, a reference photo of an actual egyptian style set:
http://www.arabhorsestore.com/store/images/ChesSet3_1.jpg
The horse is also new, and I purchased him directly off of the Stone website at the beginning of the month. He is just gorgeous and I was smitten the minute I laid eyes on him! This is "Boot Scootin' Boogie", a pearly flea-bitten gray Arabian, this is the matte version. He was not a bad price either, if you're interested in purchasing one he is a limited edition run of 45, so a little bit bigger of a run than Stone has been doing this year so they still have some left, here is the link:
http://www.stonehorses.com/arabian-fleabit.html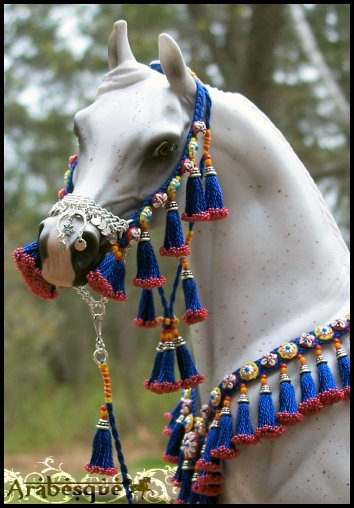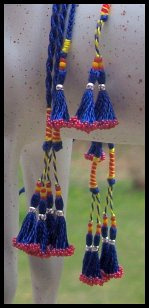 If you like what you see stay tuned to see this set in more colors soon! I plan to do the next one in red just like the reference photo, and have it in my mind that I also may be doing an orange, and a yellow? We'll see! My next blog post will start showing progress photos of my costumes I'm working on. Those are coming along nicely, and I do have photos to share, so maybe tomorrow?