The most exciting news in my week by far is that I found out that I'm having a boy! This is my little boy blue manicure I did for myself to celebrate (nail polish is my other addiction). I'm a little over halfway there now and I'm finally feeling better. I tell you what those first few months of pregnancy were tough! But now I'm actually able to enjoy my pregnancy and my energy and appetite has returned almost full force now! As a result of that, I've got several new projects going in the studio:
Here's a funny picture of Jedi before the fringe was trimmed down! LOL! Looks like he has a beard or something? "OMGZ Iza Zebra!"
It's safe to say after last week's experiment with fringe halters that I am now addicted to fringe! The halters that I'm making this week are even "fringier" than last week! Above you can see 3 black and white ones that I added the side fringe to yesterday. Today they'll get more tassels, browbands and throat lashes. They were inspired by the "Nazeer/Morafic" style halters.
First of all at the bottom of this photo (shown above) the 6 halters that are laid out in an arc shape are more of the "Nazeer" style halters. There is light blue and white, and a pretty teal and white. I'm doing 3 of each color on these, they are just too cool to offer only one of each. If they turn out the way I hope I have plans to do some wilder colors next week! These are more of the authentic soft/dramatic shades I've seen in reference photos.
In the top section of that photo we have four halter bases. The "zebra" colored one is the new costume I'm working on for Lea, should be an awesome costume! The other three: red, light blue mix, and green are all new presentation sets I'm working on. The red and green will be more authentic style with a single row of tassels and the blue mix is a mixture of 3 soft shade blues which will be reflected in the tassels. There will be an alternating mix of these colors in a double tier of tassels on the collar piece...safe to say this one is done more with the "artist's flair" in this case since I'm such a fan of blue!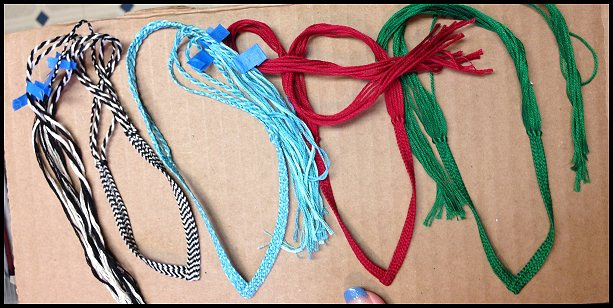 Here are the collars for those pieces. They are a little flippy floppy in this photo because they just tend to do that until you put tassels on, and trim up and finish those ends to make them lay down right. Of everything I am showing you today, the only pieces that are not going to be for sale is the "zebra" style halter/collar for the costume. The 9 Nazeer style halters, and 3 presentation sets should be hitting my sales list by the end of the week or sometime at the beginning of next! Stay tuned for more updates!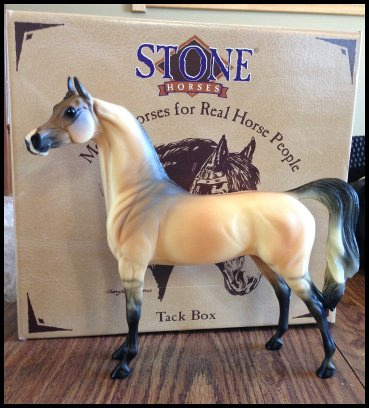 This guy showed up in the mail yesterday! This is another Peter Stone Arabian for my collection "Autumn Knight". The coloring on this guy is just gorgeous, he's by far one of my nicest. He also has these pretty white flecks at the tops of his eyes which give him a very concerned expression. Like usual, I can't wait to play dress up! And the addiction only continues, because while I was writing this blog...3 more Stone Arabians for my collection showed up in the mail which I will talk about next time! Until then....
Thanks for reading & happy collecting everyone!
Melissa :0)