I'm a little delayed at sharing photos of this set with everything that's going on getting ready for baby to come (he's not here quite yet...), but still wanted to take a moment to share! Here is another set kind of like the "Green Hearts" set I made, but this time in a pretty light "cat's eye glass turquoise" blue. The tassels are a little blue-r in real life that the pictures are showing, but still more subtle than loud. This one takes on kind of a celestial theme this time with star charms used instead of hearts, and it's being modeled by Inglenook with his new hair make-over (see my previous blog for details on how that happened).
This one features a brow band with a little half moon and star charm added. The nose band charms are a combination of several elements used in the set from beaded dangles, silver charms, and little coins with added rhinestones. That's some thing else that's new with this set that the last one didn't have is rhinestones, just a few thrown in here and there for accent and sparkle, because hello! stars sparkle!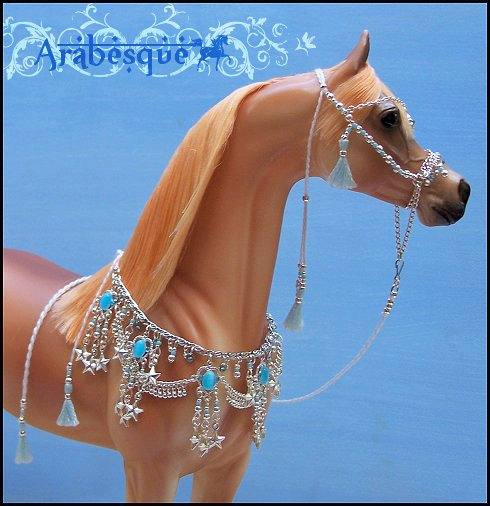 Still have plans to do 3 or 4 more of these. Most of them are spoken for, but I am going to try to possibly come up with a set or two for auction if I can. I've gotten an awesome response to making these sets and lots of interest so I want to try to reach as many collectors as I can! I have other styles close to this that I want to attempt as well which should be fun to make, not going to reveal any details on those yet, it's a secret! These jewel-y fun detailed sets are just right up my alley though, so I foresee myself doing a lot more with these kinds of sets when I can find time!
This set is owned by my friend Diane. Pictured below is a photo she sent me of this set on her custom Breyer Huck model. Just love the color combination here. This is an amazing horse too, he suffered quite a break to the neck and was expertly restored his former glory by Diane's talented friend Gary!